Company overview
Greetings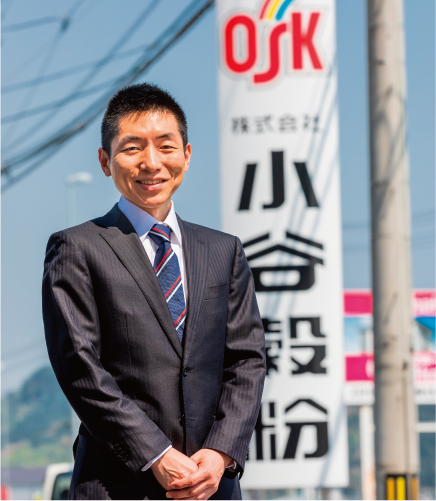 ODANI KOKUFUN CO., LTD. – CEO
Kazuhiro Odani
Our quality policy
We comply with related laws and regulations in production and sales activities, and also carry out high level of safety and quality control. We will continue to make our best efforts to improve customer satisfaction by building quality management system with continual efforts for improvements.
Our food safety policy We want to be the one and only choice of our customers. We support a healthy, daily food life for everyone. We always treat our hard-working employees just as we treat our customers: with kindness, gentleness, and caring.
Corporate Profile
Company Name

ODANI KOKUFUN CO., LTD.

[HEAD OFFICE/PLANT]

1-14-8 Takasu, Kochi-city, Kochi 781-8104, Japan
TEL. +81-88-882-2645
FAX. +81-88-882-2655

[TOKYO OFFICE]

Ujiie Bldg. 4F, 3-4-10, Uchikanda, Chiyoda-ku, Tokyo 101-0047, Japan
TEL. +81-3-5296-6978
FAX. +81-3-5296-6988
Company history
1932

Established as a rice production and sales shop in the Umenotsuji district of Kochi City.

1946

Factory moved to Shioyazaki-cho in Kochi City.

1950

Factory transferred to Umenotsuji district of Kochi City. Factory modified to include production of grain flour, packaged mochi rice cakes, and grain teas.

1965

Factory moved to Takasu in Kochi City.

1974

Construction of new packaging plant and warehouse.

1975

North Pole (Hokkyoku) series of completely sand-free barley tea (mugi-cha) is placed on the market, the first company to do so.

1976

Organizational change to stock (incorporated) company. Rinosuke Odani becomes company CEO.

1977

Introduction of heat sealing-type teabag machinery, and start of fully automated production of barley tea (mugi-cha) teabags.

1979

New construction of office, warehouse, and high rise-type product warehouse.

1982

New construction of packaging plant and raw materials warehouse. Introduction of teabag machinery for single-cup packages.

1987

New construction of roasting factory. Introduction of fully automated integrated drying and roasting machinery for roasted rice tea (genmai-cha). Introduction of additional barley tea (mugi-cha) roasting machinery.

1990

Kyoichi Odani becomes company CEO.

1993

New construction of healthy teas raw material and processing plants for teabag production.

1995

New construction of high-rise warehouse. New construction of shipment platform, quality control laboratory, employee cafeteria, clothes-changing rooms.

1996

New construction of factory for healthy teas leaf packaging. Introduction of leaf-product roasting machinery. New construction of roasting factory. Introduction of additional roasting machinery. Construction of new packaging plant. Introduction of additional single cup-type teabag machinery.

1999

Introduction of additional heat sealing-type, single-cup teabag machinery.

2001

Construction of factory solely dedicated to the production of grain-based products. Introduction of additional heat sealing-type teabag machinery.

2002

Introduction of additional single cup-type teabag machinery.

2004

Introduction of non-stapled type teabag machinery.

2006

Market launch of "dietary fiber with Japanese green tea powder, " approved as a Food for Specified Health Uses (FOSHU).

2011

Kazuhiro Odani becomes company CEO.

2012

Launch of Tokyo Business Office.

2018

MUI HALAL Acquired

2019

New Release Foods with Function Claims 「 Matcha Latte 」